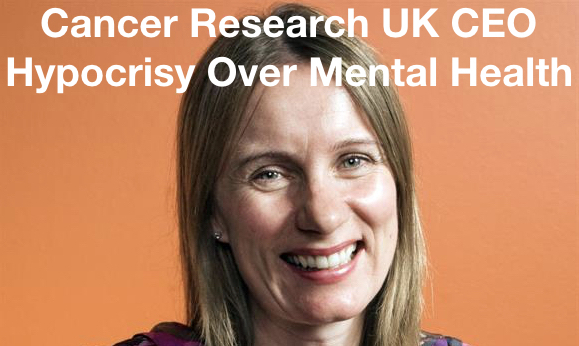 The hypocrisy of Michelle Mitchell, Cancer Research UK's CEO is already a matter of record but, yet again, we find ourselves asking whether that hypocrisy has any limits?
A supporter of Race 4 Truth has been in touch asking us whether we were aware of Michelle Mitchell's World Mental Health Day (10th October) Tweet (see below) in which she stated; "I want to create a culture at Cancer Research UK where people feel comfortable about their mental health and feel supported."
A laudable aim but extremely hypocritical given that Mitchell has given not a single thought to Jim Cowan's mental health following the quarter of a century of lies from her organisation in which they denied he was/is the creator of the Race for Life.
She also gave Jim's mental health no consideration when the facts made CRUK's stance unsupportable. Instead, she supported her organisation's attempts to completely write Jim from the event's history by denying credit to anyone.
The charity's stance, which has also included turning a blind eye to the fraud of Jill MacRae, the employee who stole the idea, brings into question its integrity and moral compass, a question which is damning of its recent and current leadership.
But it is the hypocrisy which stands out.
How can anyone claim to care about the very serious issue of mental health when leading on such policies?
Put yourself in Jim's position; how would you be affected? Every time you see a Race for Life or Cancer Research UK advertisement or report or social media post you are reminded of the theft of your idea, of the lies, of the fraud. Worse, you are reminded that your father, whose cancer diagnosis was the inspiration behind the event's creation, has been deemed not worthy of remembering by those running CRUK.
Many would struggle. Fortunately, Jim is a very strong, robust person and continues to stand up and stand strong in the face of Mitchell, and her charity's, ongoing campaign to remove his name from the event's history. But even someone as strong as he is, still has days when it gets to him.
So, the question must be asked of Mitchell, if you take mental health issues as seriously as your tweet suggests, how do you explain your treatment of Jim Cowan? Or, more likely, is that concern just PR and spin; yet more hypocrisy?
As with the many other questions Mitchell and her organisation need to answer over the Race for Life, we will not hold our breath awaiting an answer. CRUK know that their only defence is no defence!
In the Race 4 Truth, Cancer Research UK are lagging behind.