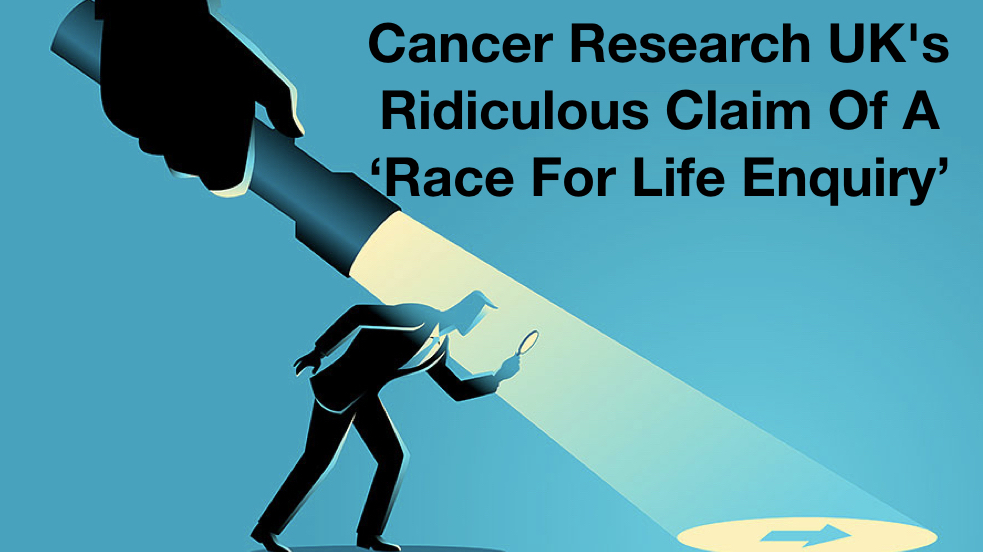 After over a quarter of a century of false claims, lies, hypocrisy, and covering for fraud, Cancer Research UK (CRUK) are now peddling a ridiculous new claim in order to prevent giving Jim Cowan the recognition due for creating the Race for Life.
In an email CRUK's Director of Fundraising, Simon Ledsham, has made the claim that they had, "explored all reasonable lines of enquiry" and had been "unable to find any solid evidence which supports his Jim Cowan's claim to be the sole originator of Race for Life." The claim was repeated a couple of weeks later by CRUK's Senior Press Officer Thea MacLeod-Hall in another email.
It is a ridiculous claim.
CRUK have previously stated that they have no documentation from the early years of the Race for Life. It is therefore unclear how their investigation was carried out or who was included.
If an internal enquiry, then it was flawed by having no documentation to refer to, and by excluding those, such as Jim, who could provide valuable evidence.
If an enquiry that included external parties, why was Jim not included? After all, they are aware that he does have copies of original documentation, including his own proposal letter and correspondence from their own staff. In addition, they are also aware that Jim could put them in touch with a number of witnesses who could verify the origins of the event. They should also be aware that Jim had even offered to sit down with Michelle Mitchell, CRUK's CEO, with this evidence as recently as 2017; an offer which was ignored.
Therefore, the only conclusion possible is that their 'enquiry' had no intention of uncovering the truth. Their investigation was merely a smoke screen designed to give the impression of having tried to establish the facts while keeping heads firmly stuck in the sand and deliberately missing an opportunity to correct over 25 years of lies. And a crude tool with which to deliberately mislead anyone making enquires.
In the Race 4 Truth, Cancer Research UK are lagging behind.