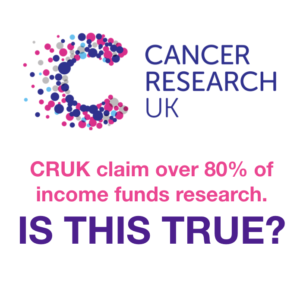 Cancer Research UK's 2017-18 Annual Report claims "more than 80p from every £1" goes to funding research. However, a closer look reveals the figure is not an accurate one and omits certain income streams to paint a better picture than the reality.
The British public should, justifiably, be able to trust the charities seeking our support. They should be transparent in their dealings, ethical in their actions, and of the highest integrity in everything they do.
Sadly, as Race 4 Truth has exposed time and time again, Cancer Research UK are far from transparent, clearly unethical, and lack any level of integrity worth measuring.
A look at their most recent Annual Report (2017-18) reveals another way in which what they claim and reality are not necessarily the same thing, and demonstrates how when people think they are supporting a 'worthy' cause, far less of what they give goes where they expect it to.
The report claims that "more than 80p from every £1" goes to fund research ('charitable activities'). And, using the same figures as they do, a quick check reveals this to be the case, 81% to be exact.
But, imagine you had a second job, a second income, one which cost you a bit more in transport and in uniforms. Given that extra cost, would you decide not to include it in any calculation to cover your family's living costs? Would you not declare it?
Of course not. But that is what Cancer Research UK choose to do with what they call 'trading income'.
This is the income from their high street shops. Importantly, it is also the income from things like Race for Life entry fees and merchandise sales.
Think about it, when you buy something from one of their high street stores, you assume that over 80% of their income supports 'the cause.' Why wouldn't you? They say that is the case in their Annual Report.
When you enter the Race for Life, you assume that over 80% of the income it helps generate for the charity supports research into cancer. "This is beating cancer", they proudly boast without telling you that not a penny of your entry fee goes to research and that not a penny of that entry fee is included in how they calculate their "over 80p from every £1" claim.
When this 'trading income' is included in the calculation (a not inconsiderable sum of £104m) the figure that goes to their charitable activities drops to below 74% (73.5%). More than a seven percent difference between the claim and the reality.
Although we believe it should be illegal for a charity to act in this way, it is not. We are not suggesting that Cancer Research UK are breaking any rules.
But what of trust? What of transparency? What of integrity? What of ethics?
If we can't believe what a charity tells us on something as basic, as fundamental as where our money goes, what else are they telling us that we should be doubting?
In the Race 4 Truth, Cancer Research UK are lagging behind.