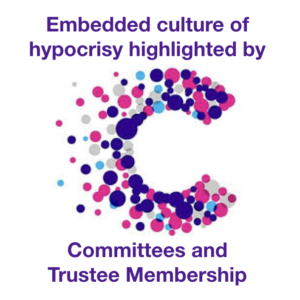 The Race 4 Truth has highlighted the level of hypocrisy which runs through Cancer Research UK in previous articles. Their latest Annual Report highlights further just how deep the issue is.
Despite the hypocrite in chief, former CEO Sir Harpal Kumar, having now left Cancer Research UK, we were interested to note the make up up of the organisations committees and trustee membership, as reported in their 2017-18 Annual Report (page 45).
The thirteen strong list includes three knights and one dame.
We don't doubt those awards were deserved but we continue to wonder at the hypocrisy of an organisation whose leadership are happy to accept recognition for their own achievements and work but continue to refuse to recognise Jim Cowan, who created Cancer Research UK's biggest fundraising vehicle, the Race for Life.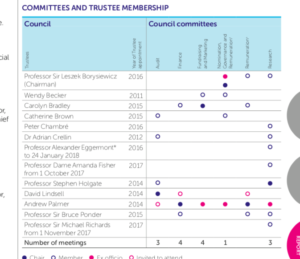 Over the years Cancer Research UK have created a range of different stories as to the creation of Race for Life. A former employee fraudulently claimed the event was her own creation, we assume supported by CRUK. And, when the lies and the misrepresentation of the truth were exposed, rather than doing the right thing and recognising Jim's amazing creation, they instead opted for a corporate line of 'not recognising anyone.'
This is still hypocrisy of the highest order. With so many in CRUK's leadership happy to accept recognition, their refusal to recognise Jim is an indictment not only on the organisation's leadership, but on the low/no integrity culture embedded throughout.
We call on Cancer Research UK to put right the wrongs of almost a quarter of a century and recognise Jim Cowan for the creation of an event which has raised so much for them, and which changed the fundraising landscape for all UK charities for good.
Further, we call on the new CEO, Michelle Mitchell (herself an OBE), when she starts her new role to begin by eradicating the deeply embedded hypocrisy in the organisation, thus starting to restore the integrity which has been absent for so long.
In the Race 4 Truth, Cancer Research UK are lagging behind.