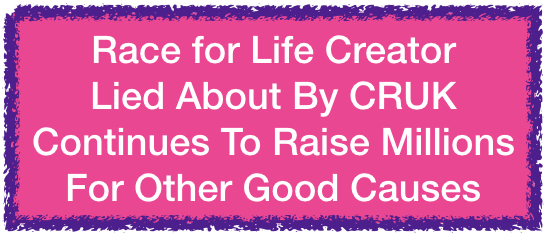 Having created the Race for Life only to see a member of staff at Cancer Research UK steal the idea and for the charity's leadership to support a campaign of lies about the event's origins (despite being offered evidence as to their claims being fiction), you could be forgiven for thinking that person would want nothing more to do with the charity sector.

Fortunately for a number of other charities that was not the case and Jim Cowan, the man who created the Race for Life, has successfully helped to raise £millions for other causes over the intervening years.

The sheer volume of fundraising events that Jim has been behind is too large to list them all here, the following being just a sample.

For example Jim turned the Poppy Run into a national series of events taking place in all four home countries as well as being the only fun run to be officially staged in Camp Bastion in Afghanistan. And armed forces charities further benefited through the creation of the People's Run 2 Remember, another national series, organised nationally by Jim through a dedicated network of local organisers.
Indeed, if you have taken part in any event which included the term 'People's Run' in its title, you have taken part in an event organised by Jim for the many good causes associated.
Beyond running, he organised the Rio Three Peaks Challenge events, modelled on the UK Three Peaks but using the mountains surrounding Rio de Janeiro and supporting street kids around the world.
From pub nights to dinners, from fun runs to challenge events, from local to national and international charities, Jim has created and managed hundreds of events.

And he has also tackled a number of challenge events himself to raise further funds. From completing the Three Peaks inside 24 hours to taking on Hadrian's Wall non-stop in 31 hours, and completing the Fan Dance in just outside 4 hours to his current project, Challenge 72.

Challenge 72 will involve Jim and a friend, Aide Myatt, walking 72 miles, in under 72 hours, while each carrying 72lbs on their back, supported by four other friends. It takes place between 27th and 29th August and raises funds for the Grenfell Foundation supporting a community still struggling over three years on from the tragic fire.

If you would like to find out more about Challenge 72, which Jim describes as his toughest challenge yet, full details can be found at www.challenge72.co.uk along with a link to the Just Giving page.

After Challenge 72, what will come next for Jim? He doesn't know yet. But you can be assured that despite the negative experience provided by Cancer Research UK's theft of the Race for Life, he is far from finished supporting other important causes.
In the Race 4 Truth, Cancer Research UK are lagging behind.