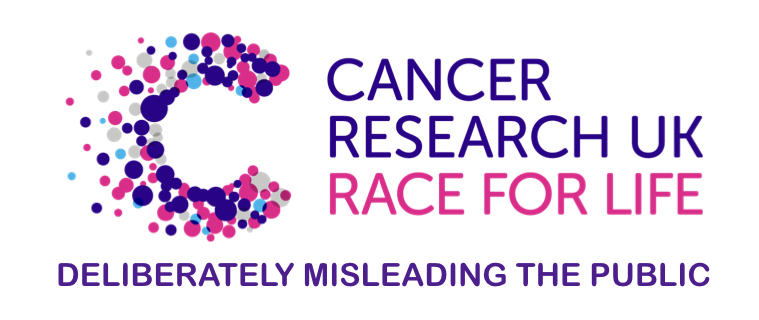 On 31st May last year we called out the Race for Life after they tweeted deliberately misleading information.
They tweeted, as they continue to do so almost daily, that simply entering the Race for Life supports research into cancer. We challenged them on this knowing that not a single penny of the entry fees supports research, something they don't even admit in the small print on the event website.
It is deliberately misleading at best, an outright lie at worst. And, given they have at least 25 years of form for lying, we know which we believe it is.
Following our challenge, via Twitter, they replied acknowledging that the entry fee does not support cancer but covers the cost of staging the event.
They went on to state; "This enables all the sponsorship money, raised by our amazing supporters, to go directly to Cancer Research UK's ground-breaking and life saving research."
But does it? We challenged them to confirm that ALL of the sponsorship raised goes directly to research (as their tweet claimed). Going to Cancer Research UK does not mean funding research. It can mean funding the CEO's £1/4 million per annum salary, or the 219+ employees earning over £60,000p.a., or the expensive central London and regional offices, or the glossy TV ads, or, or, or….. it all comes out of funds raised by an unsuspecting and (deliberately) misled public.
Their reply? There hasn't been one. One year later and despite several prompts from us, Cancer Research UK have failed to confirm or comment on something we know not to be true.
And, as with all messages from this integrity lacking charity, read that tweet carefully. It refers to sponsorship raised by followers, very deliberately excluding corporate sponsorship. No, we can't trace where that ends up either.
Rather than admit a second time to misleading the public, the Race for Life has opted for silence, for ducking the issue. For not admitting to a lie.
The absence of any confirmation does not surprise us though. Cancer Research UK have form for not saying things, phrasing things cleverly, and using false stories, in order to create a misleading impression of their events and where money raised through those events goes.
It is a fact that they have spent a quarter of a century spinning a range of different yarns as to who actually created the Race for Life and, in doing so, denying any recognition to the person who actually did.
Having been called out on these tales, rather than accept they got it wrong, they now take an official line of "not recognising anyone." And why tell the truth when simply missing it out, covers up the lies and fits your agenda better?
For example, why tell people that none of their Race for Life entry fee funds research into cancer? Far better not to mention it at all and leave people with the impression it does through statements such as, "this is beating cancer." How the entry fee "is beating cancer' is anyone's guess when none of it goes to any research. But let's not tell anyone.
And then, rather than the (deliberate?) omissions, look out also for the cleverly phrased statements, such as the one we sought clarification on. Contradicting the tweet we quote above, the Race for Life website states that sponsorship raised goes to Cancer Research UK (not to research) raising questions as to what percentage actually finds its way to funding any research?
But don't ask, they won't reply. They never admit to their lies, even when caught out. Indeed, on the entry fee lie, they continue to spin it out on a regular basis. Cancer Research UK ; less an integrity gap, more an integrity free zone.
What percentage of the sponsorship, raised and donated in good faith, actually funds research?
In the absence of any reply, and in the face of the same deliberate lies/misleading statements still being repeated, study Cancer Research UK's form and draw your own conclusions.
In the Race 4 Truth, Cancer Research UK are lagging behind.