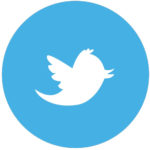 Search the Race for Life website for information on how your entry fee will be spent and any information is difficult to find.
In a previous post we suggested that this may be because Cancer Research UK would prefer you to think some of your entry fee goes to research into cancer rather than share the truth; which is that none of the entry fee funds such research.
And now, in reply to a Race 4 Truth tweet (see below), the Race for Life have been forced to concede that we were correct, not a single penny of the entry fee for the event goes towards research.
We are seeking clarification of the second point their tweet made, stating that all of the money raised by their supporters goes directly to ground breaking and life saving research.
However, again, the Race for Life website carries nothing to support this statement and, historically, they have claimed that sponsorship raised goes to Cancer Research UK leading to questions as to what percentage actually finds its way to funding any research?
When (or if) we receive any clarification on this important matter we will, of course, share it via these pages.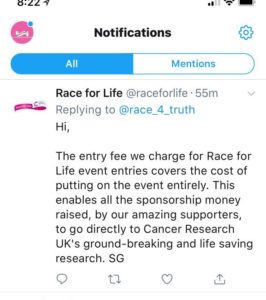 In theRace 4 Truth, Cancer Research UK are lagging behind.