Join us in our #TheSilenceIsDeafening social media campaign and help get Race for Life creator Jim Cowan the recognition and justice he deserves.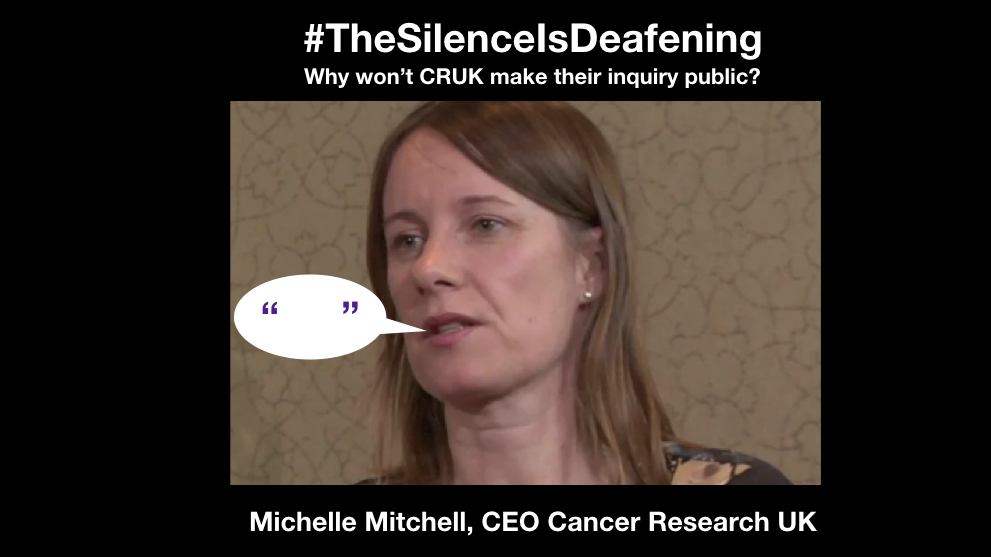 On 10th May Race for Life creator, Jim Cowan, wrote an open letter to Cancer Research UK's Chief Executive, Michelle Mitchell, as well as to every single member of CRUK's Board of Trustees.
The purpose of his letter was a simple one, that CRUK should make their claimed inquiry into the origins of the Race for Life public. After all, if the inquiry was genuine, if it looked at all of the available facts, what have they got to hide?
One month later, the silence from Cancer Research UK has been both deafening and telling.
Jim's letter has received neither acknowledgement nor reply which suggests heavily that CRUK do fear public scrutiny of their so-called inquiry.
Regular visitors to Race 4 Truth will know why. It is because the evidence is overpowering, it leaves no doubt at all that the creator of the Race for Life is Jim Cowan.
And Jim had gone further even than the evidence shared on this site by offering to put CRUK in contact with witnesses who could testify to the actual events of 1993 and 1994 when Jim had the original idea for the Race for Life and went on to launch it.
Cancer Research UK have previously admitted that they have no documents from that period. Jim does but is being ignored. The silence is deafening.
The questions need to be asked; what evidence exactly did CRUK examine in their so-called inquiry? What did they deliberately ignore? And, why the fear of making it public? Of course, we know the answer to that second question.
Now, Race 4 Truth have begun a campaign, using the hashtag #TheSilenceIsDeafening. The idea behind the campaign is simple; we have been, and will continue to, Tweet and use other social media to contact the media, celebrities, charity organisations, and others to ask the questions; Why won't CRUK reply? What have they got to hide?
And we will continue the campaign into the future by sharing articles and evidence from our articles page with those key players, all using #TheSilenceIsDeafening.
We will continue to do so until CRUK admit to their 25+ year cover up of the origins of the event and formally recognise Jim for his incredible creation, first dreamed up as a tribute to his father who was sadly taken by cancer in 1993.
Why not join us? Using #TheSilenceIsDeafening hashtag use your own social media to ask the questions of the media, journalists, CRUK supporting celebrities, and others: What have Cancer Research UK got to hide? And why won't they reply to Jim's open letter?
#TheSilenceIsDeafening