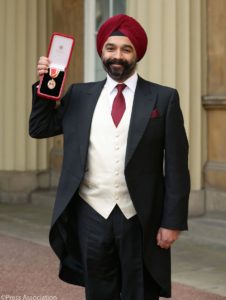 Hypocrisy (hɪˈpɒk.rɪ.si); a situation in which someone pretends to believe something that they do not really believe, or that is the opposite of what they do or say at another time:
There's one rule for her and another rule for everyone else and it's sheer hypocrisy.
(Cambridge English Dictonary).
In the case of Cancer Research UK's Chief Executive, Sir Harpal Kumar, it is one rule for himself and another rule for everyone else. And yes, it is sheer hypocrisy.
In Kumar's case he is more than happy to accept recognition for his achievements, for example a knighthood in 2016 for services to cancer research.
But when it comes to recognising others, even those whose ideas and creations have contributed heavily to the fundraising of Cancer Research UK, he chooses not to.
Take the example of Jim Cowan who created the Race for Life, an event which has raised in excess of £1/2 Billion for Cancer Research UK. You might think that someone willing to accept recognition for himself would also like to recognise others who have made such a huge difference to the cause he heads?
But no, not Kumar. He'll accept a knighthood for himself but when it comes to recognising Jim Cowan, after years of his charity lying about where the event originated, and despite plenty of evidence, both he and his charity now say that they "do not credit anyone with originating any of their events."
When it comes to recognition, Sir Harpal Kumar has one rule for himself and another for everyone else.
And the Cambridge English Dictionary is correct, it is sheer hypocrisy.
In the Race 4 Truth, Cancer Research UK are lagging behind.
Join the Race 4 Truth in campaigning for Jim Cowan to receive the recognition he deserves.
Nominate Jim Cowan for a Pride of Britain Award.