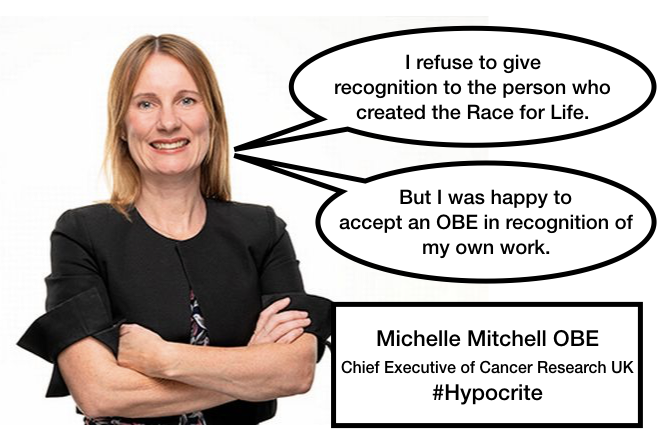 Here at the Race 4 Truth we have deliberately posted very few new articles over recent months. Why? Because we have been corresponding with Michelle Mitchell, Cancer Research UK's new Chief Executive, in the hope that new leadership might see a desire to improve integrity and end the hypocrisy of her predecessor and of the current Chairman.
Having failed to get a satisfactory response, we passed the correspondence on to Jim Cowan who wrote his own letter to Mitchell. Rather than reply herself, she passed Jim's letter to CRUK's Complaints Manager, Graeme McCluskey, who eventually replied informing Jim that nothing would be changing.
We will be sharing these letters over the next couple of weeks and we will be analysing exactly what the contents of those letters tells us about the integrity of CRUK and its new leadership, along with the continued hypocrisy.
It is reasonable to suggest that hypocrisy continues to reign supreme as Mitchell, who was happy to accept an OBE in recognition of her own work and achievements, does not see fit to recognise the work and achievement of Jim Cowan in creating the Race for Life.
More to follow in the coming days.
In the Race 4 Truth, Cancer Research UK are lagging behind.