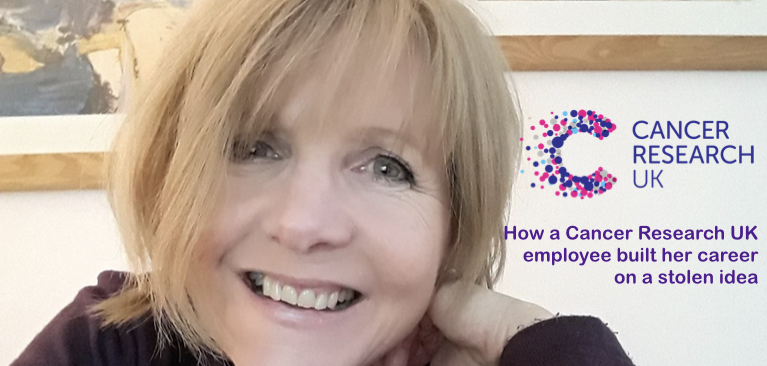 In 1993 when serial fundraiser Jim Cowan's father was diagnosed with terminal cancer, he came up with the idea for the Race for Life and he took the idea to Cancer Research UK (then called Imperial Cancer Research Fund – ICRF) and their Head of Events, Jill MacRae (nee Baker).
The proposal was simple; Jim would organise the event at a growing number of venues every year beginning with a central London run in the summer of 1994.
What followed saw Jim written from the event's history by MacRae, her successors at Cancer Research UK (CRUK), and by the charity itself; while MacRae built a career in the sector on the back of falsely claiming the idea as her own.
Jim did organise the 1994 Race for Life, staged in Battersea Park, and then began work on expanding to six venues in 1995 and twelve in 1996. However, before he could proceed he received a phone call from MacRae informing him that his services were no longer required.
Jim sought legal advice to be told that an idea could not be copyrighted and that therefore there was nothing he could do. Frustrated and angry but seeing no alternative, Jim turned his mind to other ideas and projects; ideas and projects that have raised many millions for a range of other charities.
The Race for Life went from strength to strength growing into the event Jim forecast his idea would become. Unfortunately, his name was whitewashed from its history with CRUK choosing to tell a range of different, false stories about the event's origins.
Meanwhile, MacRae had started claiming that she was the creator of the Race for Life. On the back of that barefaced lie, she went on to build a successful career in the charity sector.
But then something happened, something that could not have been predicted in 1994. Social media arrived and exploded. Suddenly, MacRae's friends were asking her who Jim Cowan was? Why was he appearing on Linked In, Facebook, and elsewhere claiming to have created the Race for Life when MacRae had (or so they thought)?
Boxed into a corner MacRae gambled that, over twenty years later, Jim would have none of the original paperwork. She wrote to Jim brazenly accusing him of falsely claiming what she described as her idea, insisting he stop doing so. She claimed she did not even know who Jim was, that she had never heard of him. She copied in former colleagues from CRUK, effectively making her accusations libellous by sharing them in print. She also edited the Wikipedia page for the Race for Life, amending it to give her and former colleague Jane Arnell as the originators of the event.
Jim responded in robust fashion, reminding MacRae that she had actually written to him acknowledging the event was his creation, stating how excited she was at the prospect of meeting and working with him. He added, "It also appears that at some stage you made a conscious decision to claim the idea as your own, whether by misleading your colleagues at the ICRF or with their collusion is unclear." He then made it clear that Macrae, "should be advised that should you continue to make false accusations against or about me and which may lead to personal and/or professional damage I will defend myself and my reputation vigorously."
Jim also contacted Wikipedia, providing evidence as to his truth (and therefore MacRae's lie) and they promptly corrected the page to reflect facts.
Jim has not heard from MacRae (or her colleagues) since and, following Jim's robust response any claims to her being the creator of the Race for Life disappeared from her social media profiles. Unfortunately for her, it is the nature of the internet that a lie once told cannot be taken back and stories continue to emerge of her making her false claim.
However, the damage was done. Cancer Research UK continue to refuse to recognise, let alone thank, Jim for his incredible creation. Their current position is that they credit no one, a somewhat ridiculous position given that for the previous 25 years they have credited a range of different (incorrect) origins for the event. Given they have admitted that they have no records from the event's beginnings, suspicious in itself, how they could make these various claims is anyone's guess.
It is also worth noting the hypocrisy of an organisation always happy to accept recognition from others but who refuse to give the recognition due to Jim.
And what of MacRae?
Her lie certainly enhanced her CV and has not held her back in her career since. After leaving CRUK in 1996, according to her Linked In profile she has worked in a range of high profile roles:
British Lung Foundation (Fundraising Manager)
National Autistic Society (Fundraising Manager)
PZA Consulting (Associate Consultant)
Blether Media (Director)
AmbITion Scotland (Specialist Advisor)
Scottish Women In Business (Committee Member)
Visibility (Fundraising & Business Development Manager)
Barnardo's (Business Development Manager and, currently, as Acting Assistant Director Business Development)
And, while MacRae's suspect CV has done her no harm (if she has lied about the Race for Life, could she have other fictional episodes recorded?), Jim's honest CV has been brought into question when Cancer Research UK told a prospective employer fact checking his CV that they had "never heard of him."
It is a tale of a man whitewashed from the history of the hugely successful event he created and who has then subsequently been lied about and ignored; and a tale of a woman who stole that idea and who has built a successful career on the back of that barefaced lie.
In the Race 4 Truth, Cancer Research UK (and Jill MacRae) are lagging behind.
FURTHER READING:
How The Race For Life Came About
Cancer Research UK Refusing To Correct Twenty Five Years Of Lying About Race For Life
Were False Claims About Who Created The Race For Life Fraud?
Race For Life on Wikipedia
More Evidence Emerges Of The Potentially Fraudulent Claim As To Who Created Race For Life
Hypocrisy Is Deeply Embedded Within The Culture Of Cancer Research UK
New Cancer Research UK CEO Will Continue The Hypocrisy Of Her Predecessor
Jill MacRae's Linked In Profile
How Cancer Research UK Lie Cost Race For Life Creator A Job Offer