WHEN IT IS MICHELLE MITCHELL'S REPLY TO OUR LETTER OF 7TH JANUARY 2019
Following our letter to Cancer Research UK's new CEO, Michelle Mitchell, initially we received a reply (dated 18th January) from her Executive Assistant Theresa Lawler which stated:
"As I am sure you are aware, Michelle is our newly appointed Chief Executive, and as such our office has been receiving a large amount of correspondence of late so it is taking slightly longer to reply to each individual letter.
We will respond to your letter once Michelle has had the opportunity to review background information."
Mitchell's reply (dated 30th January), for what it was worth, said little but told us a lot.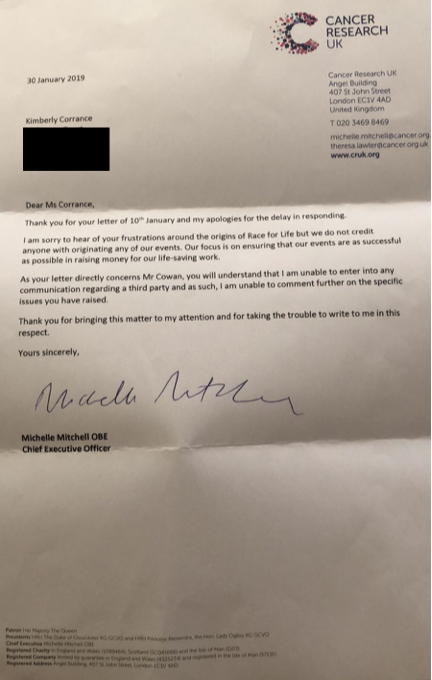 Firstly there was the repetition of the line which has become Cancer Research UK's standard response when asked about recognising Jim Cowan as the creator of the Race for Life; "we do not credit anyone with originating any of our events."
It would appear that the new CEO is to continue the hypocrisy of the old CEO. She is someone who happily accepted an OBE in recognition of her own work and achievements but refuses to recognise Jim Cowan's work and achievement in creating such a significant event.
And, after a quarter of a century of lies about the event's origins, it appears neither the charity nor its new CEO have the integrity required to put the record straight.
Mitchell goes on to duck all of the points raised in our letter by stating; "As your letter directly concerns Mr Cowan, you will understand that I am unable to enter into any communication regarding a third party and as such, I am unable to comment further on the specific issues you have raised."
So, despite her assistant informing us that prior to replying Mitchell would be reviewing the background information, she has found none of that information worthy of comment.
The lies and possible fraud of CRUK staff? Not worthy of comment. Not worthy of investigation. No further details sought. We have to question the integrity of any organisation, let alone a charity, seemingly so willing to brush this kind of thing under the carpet.
We shared Mitchell's response with Jim Cowan. He wasn't surprised. Hypocrisy, dishonesty and poor integrity seem embedded in the culture of CRUK, why should he be surprised? But, given she won't discuss the issues raised with us because they relate to him, he did decide to write a letter of his own to Mitchell.
More of which in our next article.
IN THE RACE 4 TRUTH, CANCER RESEARCH UK ARE LAGGING BEHIND.