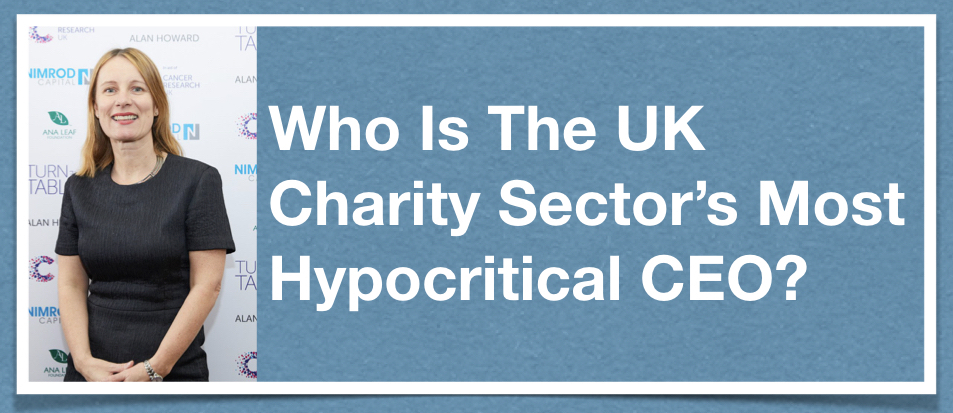 One of the themes which keeps recurring when looking at the behaviours of those who lead Cancer Research UK is that of hypocrisy. At times that hypocrisy is so subtle it could be overlooked by those not aware of the facts of the charity's treatment of Jim Cowan, the man who created the Race for Life. And we can only wonder at what further hypocrisy they may be displaying in other areas we have less information about.
When the current Chief Executive, Michelle Mitchell, assumed her role a little over a year ago she was taking the reigns of an organisation where hypocrisy was already embedded as standard and acceptable behaviour by those at the top. We were hopeful that a new broom might bring more integrity and address the issue. Far from it. In fact, Mitchell has taken CRUK's hypocrisy to new levels, and always delivered with a straight face and with no thought for the impact it has on others.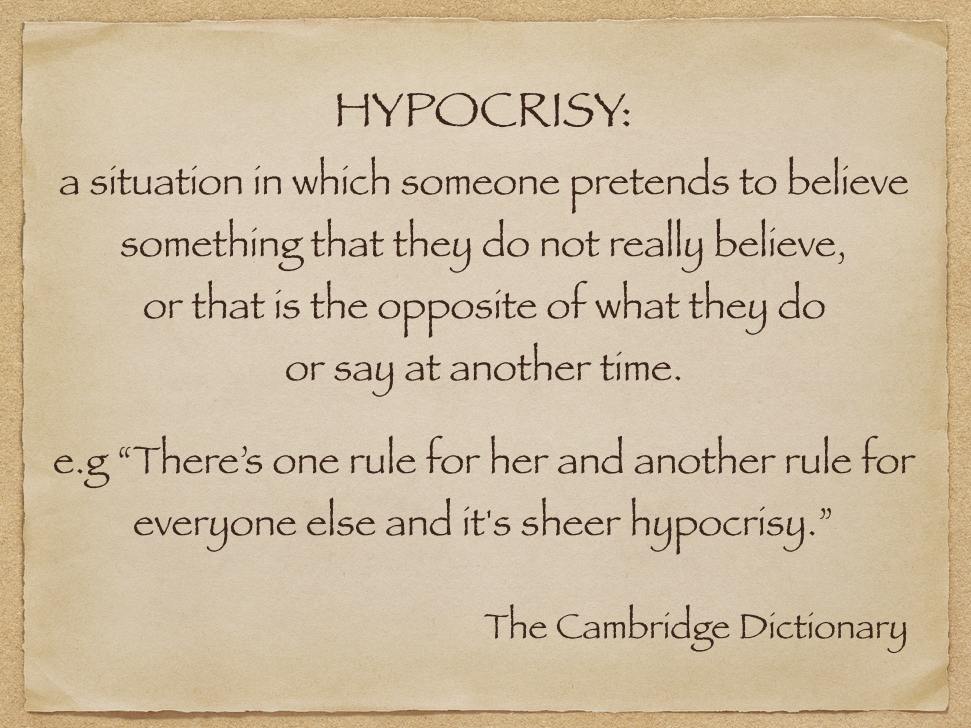 In 2018 we shared articles addressing CRUK's institutional hypocrisy. We wondered at their then CEO, Sir Harpal Kumar, and his hypocrisy in steadfastly refusing to recognise (or even acknowledge) Jim Cowan for creating the Race for Life while happily accepting recognition for his own work and achievements. Textbook hypocrisy.
We looked at the issue of hypocrisy across the charity and asked whether CRUK is the home of charity sector hypocrisy? And we looked at the charity's Chairman, and its committees and Board of Trustees and exposed yet more examples of glaring hypocrisy.
So when CRUK announced that Michelle Mitchell would be succeeding Kumar we took the announcement with some optimism that a new leader might prove to be the turning point. That the charity might rediscover integrity and honesty and cease its hypocrisy.
It didn't take long to discover that optimism was misplaced. Whether Mitchell brought her own hypocrisy with her or whether she just got consumed by CRUK's institutional hypocrisy we don't know. We do know that she has taken that hypocrisy to new levels.
On 20th January this year Mitchell tweeted, "A very important reminder today, and every day. Mental health matters, and mental health problems can be devastating. It's something I've seen up close too many times, and proper support is vital."
On the surface a positive tweet supporting an important issue. Except, and Mitchell is aware of this, her actions expose her comments as nothing more than PR, as spin. And as hypocrisy.
It is hypocrisy. And it is hypocrisy she is aware of and therefore seemingly cares not a joy about. We know she is aware of it because in October last year when marking World Mental Health Day she also spoke about the importance of addressing mental health issues. We reminded her that neither her nor her organisation cared one jot about Jim Cowan's mental health when spending 25 years lying about him, when covering up the fraud of their own employee who we have evidenced stole the idea for the Race for Life from Jim. When saying CRUK had never heard of Jim when a prospective employer was checking his CV, thus costing him a job offer. The list goes on. The stress, the pressure, the strain placed on Jim has been enormous. Mitchell's response? Silence.
Does Mitchell or her organisation care about the possible toll on Jim's mental health? No. Not a jot. To them mental health is a topic they are selective over, a topic with more value as a PR message than one requiring actions to back up their hollow words.
But hypocrisy demonstrated by her statements on mental health, while inexcusable, probably wouldn't make Mitchell the charity sector's biggest hypocrite. No, to award her with that title she would have to have displayed consistent hypocrisy across a range of topics, ably supported by statements from the the organisation she heads.
And, in the short time she has been in post as CEO at Cancer Research UK, we have already highlighted numerous examples of this hypocrisy. It is hypocrisy which comes from the top. It is hypocrisy deeply embedded within the charity's culture.
27th January 2019: We reported on Mitchell's tweet where she described as "amazing" meeting Grand Challenge winners. The hypocrisy of recognising some while refusing to recognise others was apparently lost on her.
4th February 2019: Mitchell tweeted about 'volunteering' at a Cancer Research UK event. No sign of any realisation that calling it volunteering when she is paid £240,000 p.a. to work for the organisation smacks of just a little hypocrisy.
15th April 2019: We reported how, following correspondence with Mitchell it had become abundantly clear that, while she was/is happy to receive recognition for her own work and achievements (including accepting an OBE), she was going to continue with Cancer Research UK's policy of refusing to recognise Jim Cowan for creating the Race for Life. An example of text book hypocrisy.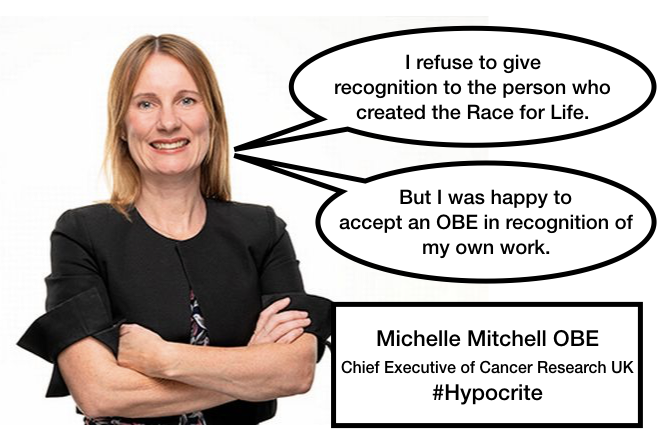 4th May 2019: We shared an analysis of correspondence between Jim Cowan and Michelle Mitchell which highlighted the ongoing hypocrisy of both the CEO and the organisation in refusing to recognise Jim Cowan for his amazing creation. The analysis also highlighted how Mitchell's (delegated) response has failed to address a single issue raised in Jim's correspondence. Given the importance Mitchell claims to place on collaboration (see 23rd October 2019 below) we can only wonder at her continued desire not to recognise the importance to her organisation of Jim choosing to collaborate with her charity when he created the Race for Life? It is clearly hypocritical and surely any sensible person or organisation would think twice before collaborating with CRUK in future, especially given their willingness to cover up the fraud of their employee who stole the idea from Jim. Textbook hypocrisy but definitely not textbook collaboration.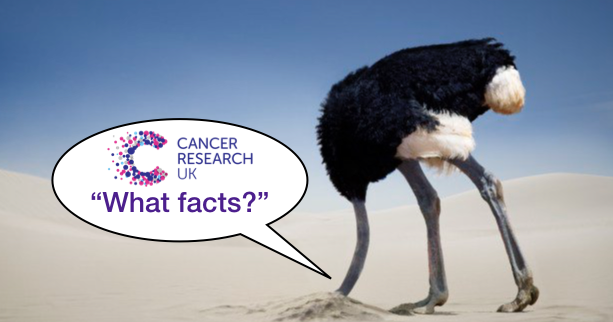 19th May 2019: We took a look at examples which demonstrate how deeply embedded hypocrisy is in the culture at Cancer Research UK, including examples of hypocrisy from those at the very top.
5th June 2019: To mark Volunteers Week, Cancer Research UK were again busy on social media, busy thanking and recognising their volunteers. This is as it should be but we questioned the sincerity of those thanks given that no such words of thanks, or even recognition has ever been extended to Jim Cowan for creating the Race for Life. Hypocritically given thank-yous are not thank-yous at all, merely hollow words.
11th June 2019: We gave Mitchell a new title as Cancer Research UK's 'Hypocrite in Chief' when reporting how, yet again, she was gushing on Twitter about CRUK employees receiving recognition for their achievements in the Queen's Birthday Honours List. Again, the hypocrisy of doing so while refusing any recognition to Jim Cowan for his incredible creation seemed to pass her by.
13th June 2019: Again the social media world was awash with posts and tweets from CRUK. This time they were asking people to nominate their Race for Life Hero (or Heroes). With a straight face they asked for nominations in the full knowledge that without Jim Cowan there would be no Race for Life and therefore no Race for Life Heroes. Our supporters rallied around and nominated Jim as their Hero. Sadly theirs were the only posts and tweets responding to the request which received no reply. Mitchell's organisation once again providing an outstanding example of hypocrisy.
7th August 2019: We questioned the hypocrisy of Cancer Research UK selling pitches to caterers who were selling bacon rolls and other bacon products at 2019 Race for Life venues. Why? This is the same Cancer Research UK, the one led by Mitchell, which warns people that bacon is carcinogenic (cancer causing). We wondered whether they saw the hypocrisy in effectively saying, "Bacon is carcinogenic. It causes cancer. Here, have a bacon roll while we pop to the bank!"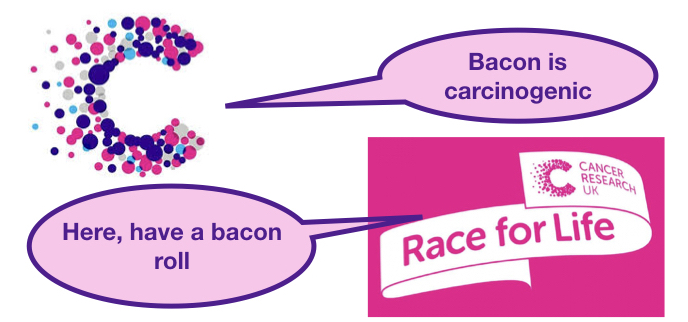 15th August 2019: In an interview in Third Sector magazine, Ed Aspell, CRUK's Director of Fundraising announced plans to retire at the end of the year. In the interview Aspel revealed that he would love to have come up with "that one, radical, transformational change that is different from the traditional model…" Had he done so, it is very reasonable to assume the charity would have lauded his achievement and praised him with recognition. The very opposite of what they have done with Jim Cowan who came up with just such a game changer when creating the Race for Life in 1993.
17th September 2019: Having tweeted about talking to Cancer Research UK supporters about the charity's history, we replied to her asking how accurate that history is? After all, we know that her organisation has spent over a quarter of a century trying to rewrite the history of the Race for Life and attempting to erase its creator from its history. What we don't know is what else the charity claims as its 'history' is also made up to fit whatever tale they would rather spin. How anyone could be expected to trust any organisation, let alone a charity, which acts in this way, we are at a loss to explain. The ensuing silence from Mitchell suggests she is too.
23rd October 2019: Addressing the NPC Ignites conference, Mitchell talked at length about the importance of collaboration to the charity sector. We can only wonder at her sincerity given her organisation's history of stealing ideas from those seeking to collaborate with them. The Race for Life comes to mind. Maybe not sincerity, more hypocrisy. We raised the issue with her but, as per usual, the silence in response was deafening. And it wasn't a one off oversight on her part. Mitchell has continued voicing her hypocritical line on collaboration since, for example in Civil Society magazine on 26th November.
4th November 2019: After a supporter got in touch to tell us about Mitchell's hypocritical tweet on 10th October marking World Mental Health Day, we reported the facts, highlighted the hypocrisy, and via Twitter (seemingly her favourite platform for communication) asked Mitchell if she cared to reply? Other than as a tool for PR and spin, mental health is not as important a subject to Mitchell and her organisation as they would like us to believe. Or is it just Jim Cowan's mental health she cares nothing about? Whichever it is, her hypocrisy is laid bare for all to see.
8th January 2020: Lisa Adams, Cancer Research UK's Media Relations Officer in Scotland, tweeted that she was "so proud to be a part of this" when retweeting a Race for Life tweet. Given her profile states 'media with honesty' we challenged her on whether she would be "applying some of that honesty and recognising the man who created the Race for Life? Or did she support CRUK's lies for the last 25 years, covering up of fraud, etc. Honesty: words or deeds?" Her response was to hide our tweet. Media with honesty? Or gross hypocrisy? You decide.
12th January 2020: In a repeat of their hypocrisy of 13th June 2019 (see above), the charity headed by Mitchell again asked for nominations for Race for Life Heroes. Race 4 Truth supporters again rallied round and nominated Jim Cowan. Again, they were the only nominations, to date, to be ignored.
20th January 2020: As reported above, Mitchell again used the issue of mental health for PR and spin purposes. At least we assume it to be PR and spin because, surely, if she really took the issue seriously she would give far greater consideration to Jim Cowan's mental health given her charity's shocking treatment of him.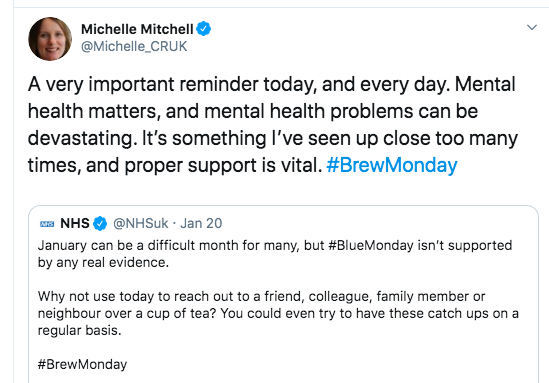 It is quite a year (and a bit) Mitchell has had in her new role. It is far from easy to reach, let alone sustain, such levels of hypocrisy. That hypocrisy has, under her leadership, reached new levels and remained deeply embedded in the culture at Cancer Research UK.
For 26 years this unethical, immoral, hypocritical organisation (and its leadership) have waged a campaign of lies about the origins of the Race for Life, inconsistent lies at that. They have attempted to erase the event's creator from its history. They have covered up the fraud of Jill MacRae, the employee who originally stole the idea from Jim Cowan.
For the record, that Jim created the Race for Life can be evidenced and witnesses are willing to come forward. That Jill MacRae stole the event can also be evidenced. Sadly, the truth, the facts, do not fit the story Mitchell and Cancer Research UK want to tell the world. They have been offered the opportunity to view evidence, to see correspondence from 1993 and 1994 which prove the event's origins. They have ignored these offers while acknowledging they have no records of their own.
We find it hard to believe there can be a more hypocritical CEO in the charity sector, or a charity where hypocrisy is more deeply embedded than at Cancer Research UK. And we can only wonder at the breadth and depth of that hypocrisy given what we have discovered is likely to only scratch the surface given the size of the organisation.
The Cambridge Dictionary defines 'Hypocrisy' thus: a situation in which someone pretends to believe something that they do not really believe, or that is the opposite of what they do or say at another time: e.g "There's one rule for her and another rule for everyone else and it's sheer hypocrisy."
Created by Jim Cowan, the Race for Life, is well on its way to raising its first £1 Billion. An astonishing amount.
If that isn't worthy of recognition, we struggle to figure out what is. And it is in the accepting of recognition for themselves while denying it to others that the hypocrisy of Michelle Mitchell and Cancer Research UK really stands out.
In the Race 4 Truth, Cancer Research UK are lagging behind.